We'd rather not extract a tooth if we don't have to but, unfortunately, sometimes circumstances dictate that a tooth needs to come out.
Teeth are designed to last a lifetime, but trauma or disease can mean a tooth cannot be saved.
If there is an infection, we may have to remove a tooth to prevent it from spreading.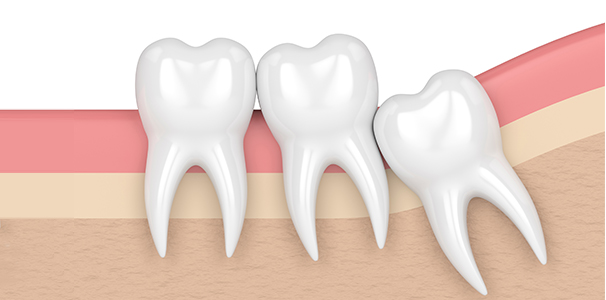 Additionally, teeth may need removal before orthodontic treatment commences and braces are fitted, or a wisdom tooth may be impacted and cause pain, requiring extraction.
Wisdom teeth – also known as third molars – are located at the back of the mouth and usually appear in late teens or early 20s.
Sometimes wisdom teeth erupt and cause overcrowding, infections, ear pain and swelling.
Without room to fully develop, wisdom teeth may become impacted and grow in the wrong direction, putting pressure on your existing teeth and making gums and teeth more susceptible to disease.
Your comfort is important to us and, whilst it may be possible to manage pain, we will advise if circumstances require to have them removed.
Our gentle approach to dentistry will ensure that your dental development is well managed without impacting negatively on the health of your mouth.
If you are looking to add sparkle to your smile in a tranquil setting, click here or request Tooth Extraction by calling 01483 573 889