A removed or lost tooth may cause insecurities when smiling. White fillings are a great option for those seeking a replacement or repairs to a damaged tooth.
Left untreated, plaque can lead to a tooth abscess (infection) or destruction of the inside of the tooth (pulp), ending in tooth loss by extraction. And, one missing tooth left untreated may end in a mouthful of missing teeth. Though it may sound daunting, this process may occur over a range of time brackets, depending on the potency of the infection. Cavities and other forms of tooth damaging issues that cause tooth loss can leave you feeling insecure about your smile, or cause issues when eating.
If you have a cavity, it's important to get it repaired. To treat a cavity your dentist will remove the decayed part of the tooth and then fill the area with a protective filling material. Options include traditional amalgam (metal) fillings and composite fillings (white fillings) that fill a tooth effectively whilst blending in naturally to maintain the aesthetics of your smile. The earlier a cavity is detected, the better. Detecting a cavity at it's beginning stages can reduce treatment time and therefore create further safety for the rest of your teeth.
Layers of super-strength, the tooth-coloured filling material is perfectly matched and then skillfully built up to look and function like natural teeth to offer long-lasting results. Tooth-coloured fillings are fast becoming the treatment of choice for our patients because they provide natural-looking and cosmetically pleasing results to create a bright smile. After a tooth is replaced with a white filling, your dentist may provide you with information about the filling and healing times. After these times brackets, a white filling may operate and be used as a regular tooth, but should also get the same treatment and hygiene.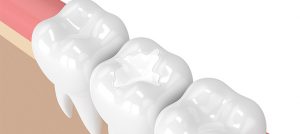 Dental fillings are an instant and effective solution to repair and maintain the health of your teeth without having them removed.
We believe in conserving your natural teeth wherever possible. Ask one of our team about your smile restoration options.
In the meantime, you can decrease your risk of cavities and other dental diseases simply by:
Brushing your teeth twice a day with fluoride toothpaste for two minutes at a time
Remember to clean interdentally, either with flossing or using little interdental brushes
Eat a balanced diet and reduce your sugar intake
Visit us regularly!
If you are looking to add sparkle to your smile in a tranquil setting, click here or request Fillings by calling 01483 573 889